Your cart: View your cart
welcome to midland stairparts
Merry Christmas! - most orders placed before the 14th - 19th of December will be dispatched Friday 21st December and delivered Thursday 27th December.
Any orders placed after the 19th December will be processed the 3rd of January 2019 and dispatched the 7th of January for standard next day delivery.
Midland Stairparts offer a complete range of contemporary and traditional staircase components. We manufacture our stair parts from high quality kiln dried timber which is brushed and hand-sanded to a fine finish ready to paint, stain or varnish. As we are the manufacturer we can machine customers own style, size and timber. Our range is available in either Pine, Hemlock, Southern Yellow Pine, Sapele, White Oak, White Ash and Black Walnut. We also use Beech, Tulip, Iroko and Douglas Fir. We also manufacture Hardwood Strings & Risers.
Discover more about Midland Stairparts
solution range
Solution combines the warm and traditional feel of timber handrails and newel posts but offers a unique modern look by introducing sleek, modern chrome.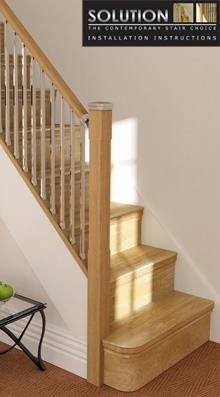 spindles

Spindles - Spindles are supplied in a range of patterns to suit different tastes and styles and are designed to match our own distinctive newels. Most patterns come in two lengths: (900mm & 1100mm) and five sizes (32mm2, 35mm2, 41mm2, 46mm2 & 55mm2). We are able to machine (copy turn) any design of spindle from a turned spindle to square pattern spindle (like our provincial style). Discover more
newel posts

Newel Posts - Newels are designed to suit every staircase configuration. Newel posts are available in 70mm, 83mm, 90mm, 95mm & 120mm size. We can machine newel posts to suit your size and style. Discover more
newel bases

Bases - Newel bases available in 70mm, 83mm, 90mm, 95mm & 120mm size. Discover more
newel caps

Caps - Newel caps available in 70mm, 83mm, 90mm, 95mm & 120mm size. We can machine newel caps to suit your size and style. Discover more
handrail fittings
Fittings - Handrail Fittings - Volutes, Ramps, Opening Caps etc. These can be machined to suit most Handrail profiles. Discover more
handrails

Handrails - Handrails are our speciality. We have our standard Traditional (THR) and a wide range of profile handrails ranging from Round, Oval, Square, Classic, Contemporary the list goes on. We have around 520 different profile handrail at the moment. We have selected our most popular handrails to our shopping cart. Discover more
sales@midland-stairparts.co.uk
our products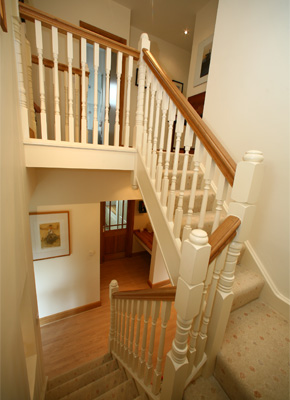 Examples of Midland Stairparts products
Today's homebuilders and contractors are returning to solid quality and traditional design for interiors in British homes. The beauty of our traditionally turned stair parts provides the bespoke appearance so desirable in today's market place, while modern production methods produce unrivalled quality and price.
Discover more about our products
about our timbers
contact
Midland Stairparts
270 Bilston Rd
Wolverhampton
WV2 2HU
Telephone: +44 (0)1902 452345
Fax: +44 (0)1902 455208
Contact and driving directions